What is NPC Adventures?
NPC Adventures is a Stardew Valley mod which allows you take villagers to an adventure. Go fight with monsters in the mines, forage in woods near the town or go fishing with your spouse or a friend, or whatever you want. Talk to them while adventuring together to new unique dialogue lines, accept new quests and challenges and became great adventurer in the valley with wonderful companion by your side.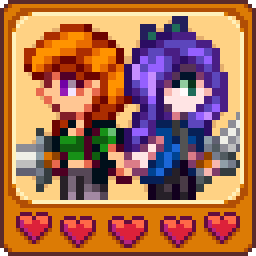 Recruit a companion
Once you reach 5 or more hearts with a villager you can recruit them.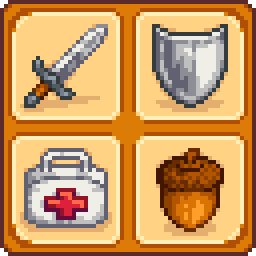 Unique personal skills
Some villagers have unique personal skills:
warrior, fighter, doctor, forager and spiritual*.
Companion's bag
You can transfer items from your inventory anytime to your recruited follower.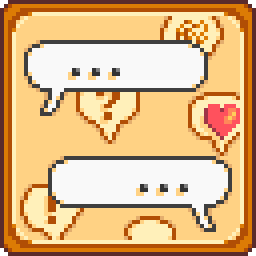 New original dialogues
Recruited followers have unique dialogues in different locations.
Companions
| Companion | Personal skills | Buffs |
| --- | --- | --- |
| Abigail | Warrior | +1 Speed, +1 Luck, +1 Attack |
| Alex | Warrior | +1 Speed, +2 Attack |
| Elliott | Fisherman, Fighter | +3 Fishing |
| Emily | Spiritual | +2 Mining |
| Haley | Scared, Protector, Fighter | +2 Luck |
| Harvey | Doctor, Fighter | +3 Defense |
| Kent | Shooter, Warrior | +1 Attack, +2 Defense |
| Leah | Forager, Fighter | +2 Foraging |
| Maru | Doctor, Fighter | Select from: Attack + 1, Luck + 1, Speed + 1, Farming +1, Foraging +1, Fishing +1 |
| Sam | Fighter | +3 Speed |
| Sebastian | Warrior | +1 Speed, +1 Luck, +1 Attack |
| Shane | Fighter | +3 Farming, -1 Luck |
| Penny | Forager, Fighter | +3 Farming |
This mod includes only bachelorettes and bachelors from original Stardew Valley as companions.
If you want to add other NPCs as companions, please check 3rd party content packs, or create your own.
The gameplay
Adventure mode
By default this mod is played in adventure mode. This mode adds quests and events for recruited followers. In order to recruit followers, you must receive the letter from Marlon with an invitation to meet which will trigger the Introduction Event.
For Marlon's invitation you must meet these conditions:
At first reach the 20th level of the mines in mountains
Be granted access to the Adventurer's guild
Then you will receive letter from Marlon with invitation
After you receive Marlon's letter, you must meet him in the Adventurer's guild
If you meet all of these conditions above, you are eligible to recruit a companion!
Classic mode
If you don't want to use Adventure mode, and only want villagers to follow you, just disable 'Adventure mode' in configuration . By disabling Adventure mode you enable Classic mode, which removes ALL extra quests and events! You can recruit a companion instantly (if you have 5 hearts or more with the NPC you want recruit).
How to play
Ask an NPC to follow you by right clicking when no dialogues are queued. Trigger NPC actions (use their backpack, dismiss them) by right clicking when NPC is recruited and no dialogues are queued.
Compatibility
Works with Stardew Valley 1.5.6 on Windows Linux and Mac
Single player only (Multiplayer is not supported)
Note for Android users
Since release Stardew Valley 1.5 this mod is not supported on Android, because latest Stardew Valley is not released yet for this platform. NPC Adventures is compiled against latest SDV version which is not Android compatible.
Known compatible mods
Custom Kissing Mod - 100% compatible (from NPC Adventures 0.9.0 with Custom Kissing Mod 1.2.0 and newer).

Json Assets - You can use custom weapons in disposition file from JA in your content packs via weapon name (Only swords supported).

Pacifist Valley - You can give some love to monsters with companions together! For full compatibility you need install Compatibility content pack . Requires NPC Adventures 0.15.0 or newer.
Incompatible mods
Automatic gates - Companions can get stuck when gates automatically close after farmer.
Made by

Apryll
Creator & Developer

Nymeria
Honorary Producer
Special thanks to
Nymeria, Orelse, Mortimer and CallMeFoxie (past team members and collaborators); Arknir (for events); ThatsMyCake for revival support of this mod. You're awesome!